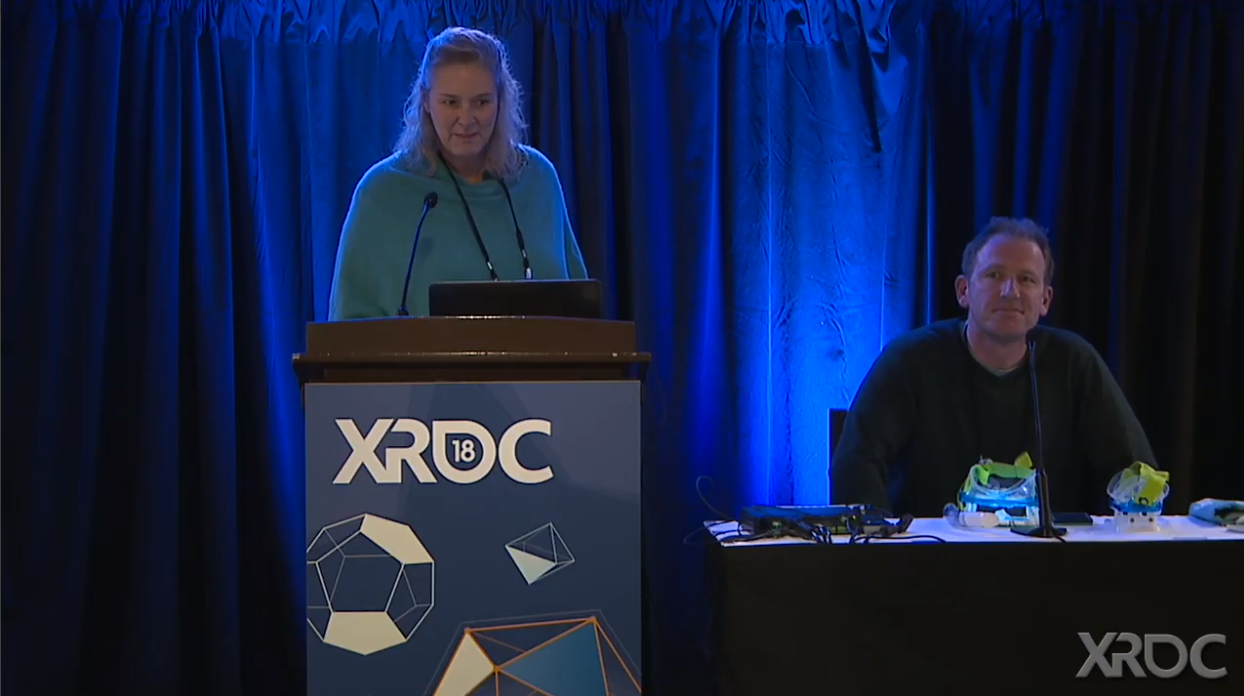 Reading Time:
4
minutes
---
In October 2018, founder Marijke Sjollema was invited to speak at the premier conference for Augmented Reality and Virtual Reality in San Francisco: XRDC. Marijke spoke about her journey from a work of art to an evidence-based medicine. For their second annual Innovation in VR & AR for Healthcare Report, XRDC interviewed several experts, like veteran game developer and former Chief Game Designer at Google Noah Falstein, USC Intititute for Creative Technologies R&D director Arno Hartholt and our own founder Marijke Sjollema, about cutting-edge topics like how VR is being used in healing, drug discovery, and neuroscience.
Blending art and science to create therapeutic VR experiences
Tell us about yourself and your recent work in AR/VR
"After a chance encounter with a wild dolphin in 1993, followed by over two decades of fascination with cetaceans, I founded the
Dolphin Swim Club in 2015 and was soon joined by my partner Benno Brada as our producer. The art project quickly grew into an organization that uses the healing power of art and nature to craft therapeutic experiences in virtual reality. The unique VR content is currently being used as an evidence-based, drug-free medicine in over 500 hospitals and healthcare institutions worldwide, and is present in several scientific studies. In 2017, the organization developed waterproof VR goggles that allow users to swim in real water, with virtual wild dolphins, and experience real therapeutic effects. As well as providing an entirely cruelty-free alternative for so-called dolphin-assisted therapies with captive dolphins."
What excites you most about AR/VR in 2019?
"I stand in a long and rich Dutch tradition, as I was trained as a painter and still wake up with that 'eye' every day. I imagine that artists like Rembrandt, van Gogh or Mondrian, if they were alive today, would surely have embraced this entirely new and fantastic tech. To create a world, and then be able to walk or swim or fly around in it; to create a work of art that becomes a medicine; this is truly a new and unique path available to me as an artist today, where the work you create can cross over from being not just a product, but an experience to touch people's lives with. And of course, life will be easier with all kinds of improvements in the quality of equipment, software, user-friendliness, affordability etc. In this respect, I think the future is looking bright. Another exciting aspect of using our healing VR experiences to help patients cope with pain or anxiety is that it leads to a reduction in the use of chemical medicines. As we use lower doses of these drugs, not only do the patients benefit, but it also contributes to cleaner water and a healthier environment. So we all benefit."
What do you think is now the biggest challenge to realizing AR/VR's potential?
"To connect talented medical scientists, artists, and technicians to collaborate on amazing projects, so people in the dark hours of their lives can have the best virtual medicine we can come up with. Also, finding the proper funding and collaborators. There are already quite a few fantastic and very effective examples of what magic can be achieved (and of course, I am proud that Dolphin Swim Club is one of them). I like the example of the syringe; It must be sharp, it must be sterile, but in the end, what works is what you put in it. Second, I think there is also a challenge to make an effort to provide some assistance, and to get staff closest to the patients "on board" with this technology to provide enthusiasm and support. All efforts are in vain if it all ends up gathering dust on a shelf."
Immersive tech is a powerful tool and we have seen some remarkable results. Not only in a pure healing sense, but in palliative care sense as well, providing comfort and peace of mind.
What's one cool AR/VR application you think people should know about?
"I am a fan of VR/R experiences that offer freedom beyond the bounds of traditional VR: location-based, immersive experiences that incorporating more senses besides our sight and hearing. This is usually not possible or very practical within healthcare. So may I be a bit immodest to say that we are very proud to have developed underwaterVR goggles. As our skin is our biggest organ, it is so immersive and a lot of fun to swim in real water with virtual wild dolphins. For this technical achievement we received a Laval Virtual- ACM Siggraph Award, as well as an award from the French Polynesian Human Underwater Society. In a practical sense it is being used in aquatic therapies with burn wound patients, revalidation, mentally or physically disabled swimmers during therapy sessions, and animal-assisted therapy. To reduce pain, and bring joy and motivation into exercises."
How do you work with the limitations of AR/VR to design effective healing experiences?
"We try to gather as much feedback from users and medical specialists as we can, to learn what works, what their needs are, what limitations they have as patients themselves. So if there is a limitation in movement, we focus on a specific field of view without losing the immersive quality. We also consider the emotional impact and the feelings of comfort someone might enjoy from having other humans in the water, or whether they'd rather not. Or we play music or guided meditations, if that's preferable, instead of natural sounds. What works in VR/AR as medicine is very personal, so I believe strongly in providing many options for what could bring effective healing. Not everything works with everybody all the time, just like all other medicine. However, if it works, it works; immersive tech is a powerful tool and we have seen some remarkable results. Not only in a pure healing sense but in a palliative care sense as well, providing comfort and peace of mind during the last weeks or days of people's lives."
Interested in reading the full 'Innovation for VR & AR in Healthcare' report? It contains lots of interesting use cases for AR and VR.
You can download the full report here, after registration.