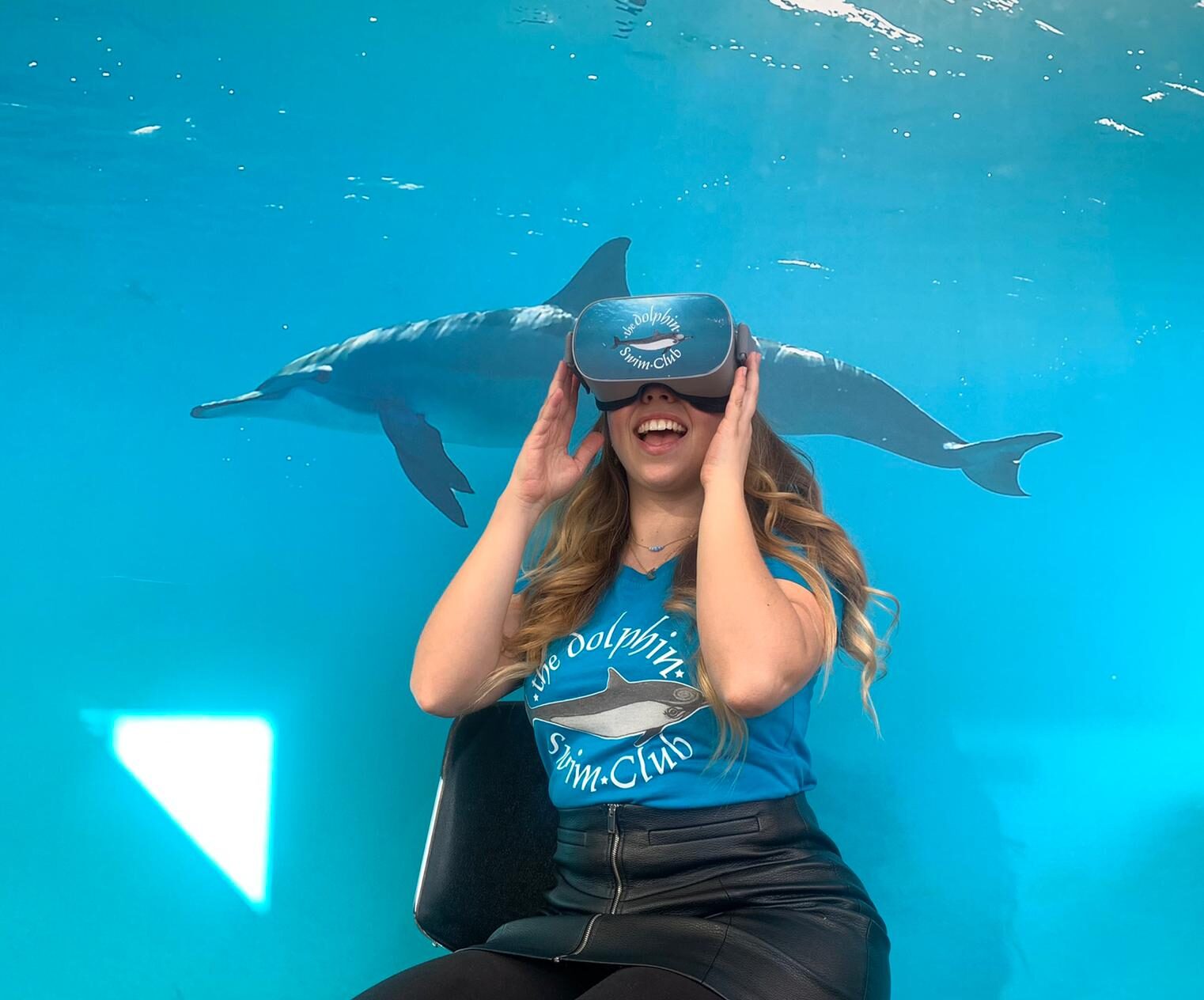 Reading Time:
3
minutes
---
An inspiring encounter
My first encounter with the Dolphin Swim Club was three years ago in 2019. After hearing about the project, I asked for a meeting with Marijke Sjollema. This talk went on for hours and we immediately connected over our massive passion for the oceans and their fascinating inhabitants. I remember how the conversation flowed and how I felt when I left, having learned so many new details about dolphins and virtual reality. It really expanded my horizon.
How it all began
As it has been my passion for a long time to bring animals and people together again, I saw how the Dolphin Swim Club project could open our hearts toward animals again. As for this passion, I started studying Animal Management at the Hogeschool Van Hall Larenstein four years ago. I focused my study on psychology and Animal-assisted therapy because I always felt that we can make the biggest shifts in people's minds through these subjects. This study, along with my experience of working hands-on with dolphins under human care in Malta and Curaçao as well as with semi-wild dolphins in Australia has given me a good indicator of how much these beautiful animals can benefit and teach us.
Now, with the dolphin-VR project, it seems that the Dolphin Swim Club has found a way to create the same incredible benefits for people without the need to take the animals out of their environment.
Finally, in the summer of 2021, I reconnected with Marijke and Benno and started to research the Medical Virtual Reality Dolphin Experience and its effect on students. This was going to become my bachelor thesis. You can find the finished results here.
This idea came to fruition after I saw so many of my fellow students struggle greatly with pressure, stress, and even depression during their studies. Since I have experienced these struggles myself, I wanted to see if there could be a direct and easy solution that could help my fellow students to cope with their stress. Not knowing that this idea was going to be a big success I started the research in September 2021.
Can the dolphins help students?
The main question was: To what extent does a student in the Netherlands undergo a decrease in pre-exam stress during a virtual reality dolphin experience?
My research Partner Shiva Jalalizadeh and I, let students come into our little lab during a high-stress period, the exam week, and let them swim with virtual dolphins there shortly before their exams. The students rated their self-perceived stress levels before and after the experience. We measured their heart rate and observed their body language during the experience to detect any signs of stress or relaxation.
The feedback and the results were amazing, out of 34 highly stressed students 32 experienced a significant decrease in their self-perceived stress levels. Almost no signs of stress-related body language were detected during the experiment as well. The students were rather deeply immersed in the experience and showed this by grasping for something that they saw and by looking around them to not miss anything. Shoulders were relaxed and smiles were formed on a lot of faces. 'Omg there is a baby dolphin' one of the students yelled out with pure delight.
Only the heart rate did not decrease as expected within most students, it was rather enhanced in some cases. Pairing these results with the positive experience and the stress decrease the students felt, it is a big possibility that the heart rate went up because of 'eustress' which is positively perceived stress and enhances motivation and focus.
A deeply relaxing experience
All in all, it feels safe to say that the relaxing and deeply immersive experience of swimming with the virtual dolphins of the Dolphin Swim Club has a very positive effect on a student's stress level, especially during high-pressure periods such as the exam weeks. I am really glad to have discovered this enhancing and easy implementing tool, that can be used to lower perceived stress levels and to relax. Furthermore, there is a possibility that this decrease in stress could even lead to higher performances.
Even though my thesis is finished, my journey with the Dolphin Swim Club isn't over yet, and I am happy to say that I will be supporting Benno and Marijke for the upcoming half a year to take their message further into the World.
I am looking forward to sharing new insights and adventures with you.
Bibi van Neuss