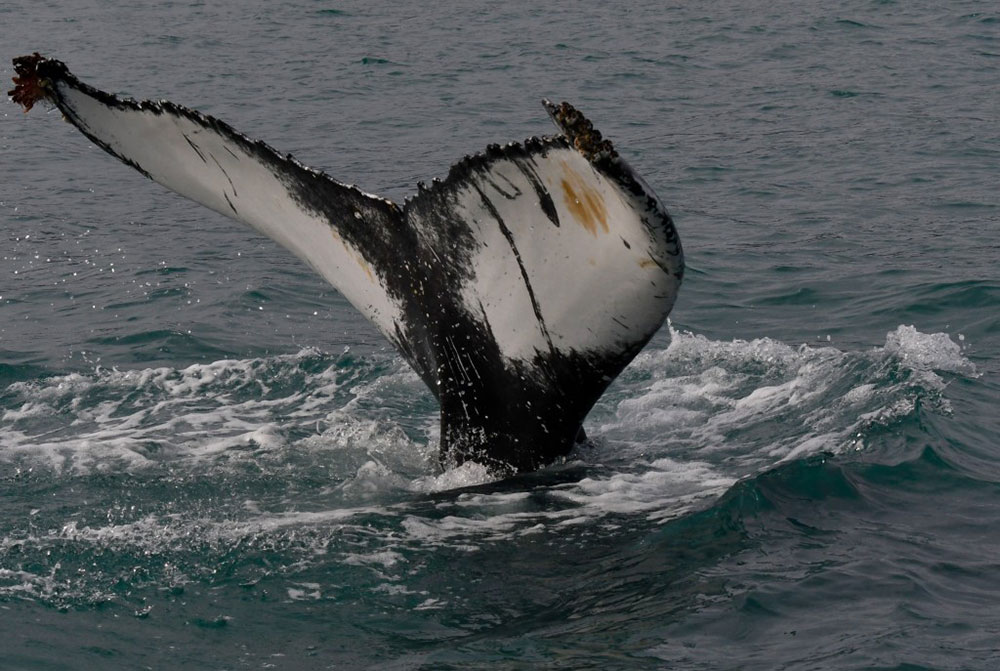 Reading Time:
2
minutes
---
So we were in Los Angeles, invited by professor Skip Rizzo, to present the Dolphin Swim Club at the Internation Conference on Disability, Virtual Reality and Associated Technologies (ICDVRat). What an amazing gathering of Virtual Reality pioneers, medical scientists and artists, all dedicated to curing people with the aid of science and technology. Someone suggested to compare the often asked question 'Does Virtual Reality work for patients in healthcare?' with this question 'Does a syringe help?' The answer was that it really depends on what you put in it. Content is queen. For an artist, this is of course great inspiration!
Dana Point
Since we were already in the area, we decided to spend some time on the Pacific Ocean. We wanted to see if we could make new cetacean friends in the rich coastal waters. In the harbour town Dana Point, we went out with a whale-watching catamaran where we had the great honour to meet the magnificent Blue Whale for the first time. The greatest creature that has ever lived on our planet! But there was so much more to see. We spotted some Californian Sea Lions, Mola-Mola fish, Short-beaked Common Dolphins, Long-beaked Common Dolphins, Coastal Bottlenose Dolphins, Sea-otters, Pelicans, Elephant Seals, Humming Birds, Rizzo's Dolphins (we joked that this was in honour of our host Skip Rizzo), Porpoises and Humpback whales. What a great day!
Saving Whales
Captain Dave, the owner of the whale-watching operation, introduced us to his friend Barry Curtis. Both are members of a whale rescue team trying to set free sea life entangled in fishing nets. Barry invited us to join him on his boat the next morning. The mission was to try and find an entangled humpback whale, spotted the day before. On a beautiful sunny, windless September morning, we set out from Dana Point to see if we could find the humpback in trouble. The plan was to 'babysit' and keep score of its position until further rescue efforts could arrive. Although the conditions were perfect, we never found the whale…
Barry's companion is a very special dog, his name is Otter (the dolphin dog). He is, if possible, even more passionate about dolphins than we are. So when we couldn't find the whale, at some point Otter became restless. And yes, there they were! Lots and lots of Short-beaked Common Dolphins all around in a 'stampede'. Yes Barry, it's a wonderful world indeed.
The only thing weighing down this magical day was the thought of the poor humpback soul out there in trouble somewhere. Until a few days later when the news arrived that the whale managed to free itself!! A very happy ending indeed. So to all our new friends from California, whether Cetacean, Canine or Human, wishing you safe travels and free passage to wherever your dreams may lead you.